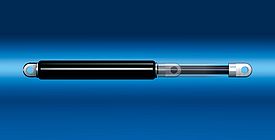 Bansbach generates countless gas spring options from existing components, according to customer individual requirements and within the shortest possible production times. Bansbach gas springs include the following:
Controlled pushing, lifting or lowering without external energy.
Our production range covers practically all dimensions and forces required for your specific application.
Easylift® gas springs are used everywhere in the industrial field.
In addition to the automobile and furniture industry, there are various applications in the machinery and equipment design.
We also offer customized solutions to meet the special requirements in the medical and aircraft industry.
The continuous production of special sizes and our extensive stock enable us to meet nearly all requirements within a remarkably short time.
---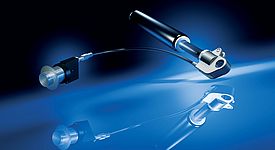 Bansbach lockable gas springs provide controlled pushing, lifting and adjusting up to absolutely rigid locking in both directions.
When considerable forces influence moving construction parts, the most important aspect is a reliable locking. The piston rod of the lockable easylift® gas spring can be adjusted in every required position of the entire stroke by actuating the release pin.
The main types of lockable gas springs:
Release Systems for lockable gas springs
Release systems for a wide range of lockable gas springs and traction springs, enables you to configure release systems that best suit your application needs.
Release System with Lever - Variable release direction towards/away from the gas spring. Flap grip or cone grip lever handle release.
Bowden Wire Release System - Easytouch by wire, flat grip or push button. Easytouch splitter for releasing two gas springs simultaneously. Release heads for horizontal and vertical cable connection.
Hydraulic Release System - Enables hose fixing points around corners. Variations for releasing two gas springs simultaneously, or one gas spring from two different points.
---
Stainless steel gas springs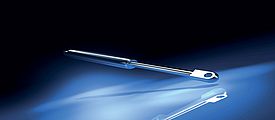 Bansbach gas springs are available in a number of different lengths, forces and variations, as well as in highly corrosion-resisting material.
To produce high-quality stainless-steel springs Bansbach uses medical grade 316L stainless steel.
Gas springs are resistant to water and used in food, chemical, medical, and saltwater applications.
All gas springs in these high-quality product groups are made with a valve, except for P-models and traction springs with damping.
---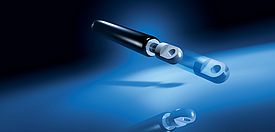 Bansbach gas traction springs provide controlled pulling and adjusting, also dampened on request - according to your requirements.
The basic position of gas traction springs is with an inserted piston rod. Bansbach traction springs differ between short (standard) and long construction types.
The speed of the standard gas traction springs with short construction is fast and cannot be influenced.
The long construction traction spring speed can be varied by using different nozzles and is available with and without damping.
Our wide variety of easylift gas traction springs offer "attractive" solutions for creative engineers. You can easily develop the CAD files for your individual Gas Traction Spring using Bansbach CAD Configurator.
---
Lockable gas traction springs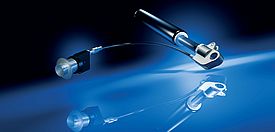 Bansbach lockable gas traction springs are continuously adjustable over the whole stroke. The lockable gas traction spring can be released by pushing the release pin. When the piston valve opens, gas or oil can flow through the piston and the piston rod will be inserted. Due to the high reliability, this type of spring is preferentially used for medical equipment.
---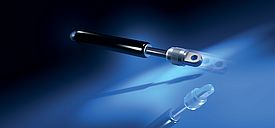 Bansbach dampers are used as safety and function elements in order to dampen speed and slow down masses.
Bansbach offers the following list of dampers:
---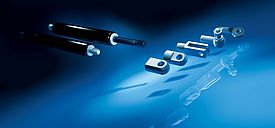 Bansbach connecting parts guarantee movement and transfer of force for precise and controlled force development. A comprehensive range of hinge eyes, clevises, elbow joints, ball joints, and metal fittings will fit nearly every mounting requirement.
---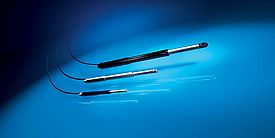 With the new Bansbach easyE-line, you receive an in-line actuator with a very slim design. Due to the linear layout of motor, gear and spindle, a very slim design for installation is achieved. With an outer diameter of 35, 50 and 60 mm, the actuators fit into nearly every application. And this is possible with forces up to 10.000N (easyE-60).